Are you looking for Stump Grinding in Wahroonga, NSW?
Factors beyond our control such as terrible weather conditions may cause certain trees and branches to break or pose as a threat to your surrounding home or the general public. In response it's crucial to contact our professional stump grinding Wahroonga team whom are more than capable of carrying out your stump removal process. Our professional stump grinding Wahroonga team here at Sydney Green Group possess the skills and are equipped with machinery and tools which will enable them to perform your stump grinding Wahroonga or removal service in a careful and safe manner. Our tree specialists here at Sydney Green Group are able to arrange for all client the successful removal of a stump as well as the clearing of such a space in order to allow for the further plantation of another tree.
If you are in seek of a professional arborist here in Wahroonga look no further than Sydney Green Group. Our team of experienced stump grinding Wahroonga specialists are qualified to complete your stump removal process to the highest possible standard and without any delays or complications.
Here's why you Should Remove Tree Stumps, by our Stump Grinders Wahroonga here at Sydney Green Group:
Besides the hazard stumps pose they also ruin the overall aesthetic of your residence or landscape. Stumps may possible attract pests such as termites which may cause damage to your property and surrounding healthy tress. Our experienced team of stump grinders Wahroonga here at Sydney Green Group will remove any potential threats and hazards. Close attention is payed to any roots that may affect any future developments. Hence, all roots above the surface of the ground, associated with the stump, will be removed.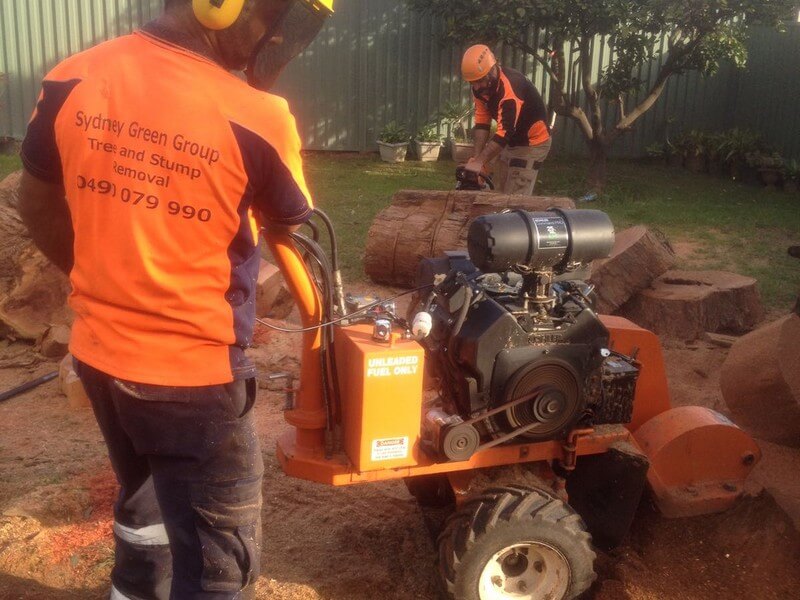 Not getting your stump removed by our profession stump grinding Wahroonga team here at Sydney Green Group may cause issues such as:
The stump may cause a tree to regenerate from it – New leaves may begin growing from it and over the course of time it will begin to regain its strength. If the tree ends up growing without taking immediate action you may end up having to pay even more in order to get your tree stump remove again. The only way to ensure the tree doesn't regenerate is to entirely remove the tree stump.
The protruding stump occupies space in the landscape and can become a hindrance if you want to install a flower bed or lawn or even build an outdoor structure in that space. When you hire our professional stump grinding Wahroonga team, our experts will remove the stump to a few inches below ground level and will grind it well; the hole that gets formed will then be filled in with soil and you will have a clear and level space to use as desired.
If the tree stump is left in the ground to decompose over time naturally, it can take very long for that to happen and the only way to ensure immediate removal is to opt for our Sydney tree stump removal and grinding solutions.
A tree stump also becomes an attraction point for termites and other ground pests. They start to nest in the trunk and will eventually find their way to your home structure or commercial building; termites can cause significant damage with a short period of time.
A rotting & decaying tree stump tends to attract infestations and fungus which can easily spread to the lawns and other plants and trees on your property.
The best way to avoid all these problems and risks is to hire our licensed stump grinding Wahroonga professionals here at Sydney Green Group for the job.
Here's why you should hire our stump grinding Wahroonga specialists here at Sydney Green group:
Our team of arborist's are Experienced – Due to the extensive amount of experience that our team of qualified tree service providers have attained over the years they have acquired certain skills which will allow them to effectively and efficiently carry out any tree removal or stump removal service process in a safe and careful manner. Our team of stump grinding Wahroonga experts are also equipped with the latest stump removal machinery, hence allowing our stump removal experts to remove your stump in a safe manner and without causing any damage to your property or surrounding trees and plants.
Safety is a Priority – Here at Sydney Green Group our stump grinders Wahroonga highly prioritise safety. That's why our team of qualified specialists will employ safe and secure methods into all aspects of their services as to ensure the prevention of any damage and injuries while delivering our services to you. All members of our team are trained to use machinery and equipment in a safe manner, hence preventing the likelihood of mishaps while on-site.
Communication is Key – Our team of stump grinding Wahroonga specialists here at Sydney Green Group believe in effective communication as a source of preventing any misunderstandings from occurring. That's why our team of professional tree service providers will effectively communicate with all clients before commencing any service in order to ensure we fully understand your need.
We are Fully Licensed and Insured – Our team of stump grinding Wahroonga professionals at Sydney Green Group are a fully-licensed and insured company, and our arborist's hold a level 5 certification.
Our Sydney Green Group Stump Grinding Wahroonga Rates
Our stump removal service costs and time required for the job is based on various factors consisting of:
The Diameter of the Tree Stump – The diameter of your tree stump is an indication of the cost that is to be expected. A larger diameter means a higher cost in comparison to a smaller diameter.
Access to the Tree Stump – If the tree stump which you require removed is easily accessible by our team then the cost will be lower than if the stump was difficult to access. Difficult access to stumps consists of the existence of the stump being on sloping land.
The Type of Tree – The species and wood quality of your tree is another factor which indicates the cost that is instilled. Hardwood tree species such as Pine or Liquid Amber are more complex and difficult to grind and will therefore possess a higher cost.
The Condition of your Soil – If the tree stump has been buried deep in rubble or is present on a rocky ground this will require a longer time to remove the stump, hence being more costly compared to easily removable stumps.
However, regardless of all the above factors our team of stump grinding Wahroonga professionals will still provide all clients with an affordable price which will definitely be unmatched. If you have any other enquiries about the services that we offer here at Sydney Green Group be sure to contact our stump grinding Wahroonga staff in order to be provided with a no obligation quote as well as a consultation. Feel free to contact Sydney Green Group on 0490 079 990. Alternatively, you may fill in our online forum and a member of our team will shortly be in contact.
For Other Tree Services please see below: