Sydney Stump Grinding Tree Services
Sydney Green Group is a reputable tree removal company in Sydney with extensive experience in stump grinding and removal. Utilizing state-of-the-art equipment and techniques, our company's team of skilled professionals are equipped to handle projects of any size and complexity in an efficient, safe, and timely manner.
Stump grinding is the process of removing tree stumps, leaving a pile of wood chips that can be used as mulch. This technique is superior to traditional stump removal methods as it is less invasive, cost-effective, and environmentally friendly.
Sydney Green Group offers stump grinding services to businesses and homeowners across Sydney. Our company's team of highly trained arborists can safely remove unsightly tree stumps and free up space in your garden or commercial property. Clients can rely on Sydney Green Group's expertise, commitment to quality, and exceptional customer service to get the job done right the first time.
Sydney Tree Services We Offer
Stump Grinding Sydney Service Provider
Our stump grinding Sydney services start with a thorough assessment of the affected area. During this assessment, we will consider the size and age of the tree, the type of soil, the location of the tree, and the amount of energy we need to remove the stump. We will also inspect any existing damage or decay and make sure that the area is safe to work in.
Once the assessment is complete, we will utilise our tree care technology to grind the stump to a depth of 12 inches below the surface. We will then use our compact grinding machines to further reduce the stump down to 3 inches below the surface. This allows for the easy replacement of the affected area.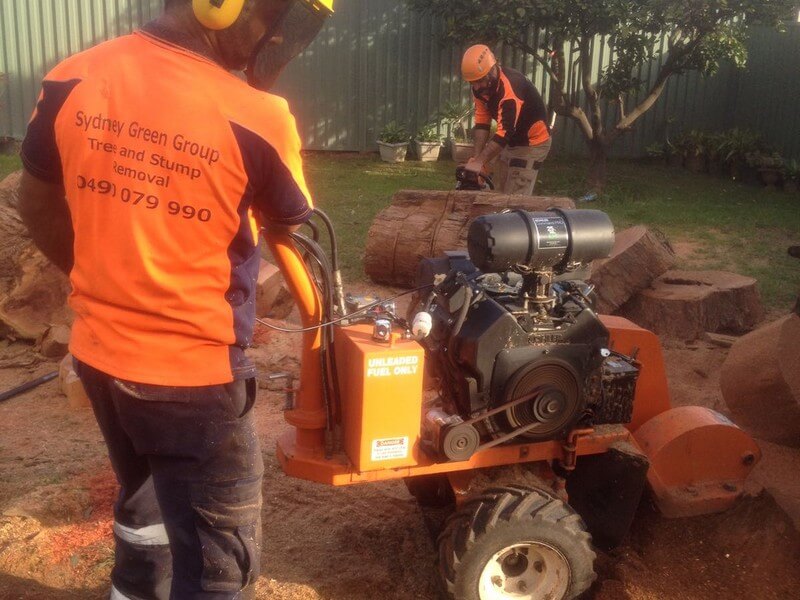 The Complete Stump Grinding Solution
Sydney Green Group is a professional team specializing in stump grinding solutions proudly servicing properties across Sydney since 2000. We offer a comprehensive stump removal service that includes stump grinding, surface root removal, and site clean-up. As certified and experienced arborists, we have the latest tools and machinery for all size stumps and are equipped to deal with stumps in hard-to-reach locations.
We prioritize customer satisfaction and safety and ensure each jobs done efficiently and to the highest standard. Our team offers a free quote on all services to provide customers with a clear understanding of the work involved and the associated costs.
Sydney Green Group is committed to sustainable practices with all removed stumps recycled or repurposed into garden mulch, preventing waste from going to landfills. Choose Sydney Green Group for the complete stump grinding solution and enjoy a hassle-free, safe, and sustainable service.